Rolls-Royce Gallery
Rolls-Royce Phantom
Our Rolls-Royce work, both restoration and custom steering wheels, predates the Phantom in 2003. We made the first all wood steering wheel for the Rolls-Royce Phantom shortly after it was released in 2003. Since most drivers find the factory steering wheel grip to be undersized, we offer larger grip options along with the various wood options.
The divider and surrounding area in this factory limousine were originally leather. The owner wanted to enhance the look with a full wood treatment. The divider is a 4-way match of walnut burl with edging and inlay of paldeo. The console was completely rebuilt for a new TV and decanters.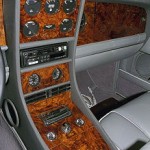 Corniche Console (link)
(link)
The options shown here are just a sample of the various woods and fibers we offer, and by no means are limited to the models they're shown on. We make everything to order, so you can have the look you want. To see a more complete list of the woods available please visit our Palette Page.