Sometimes people don't understand what we mean by "everything we make is custom made".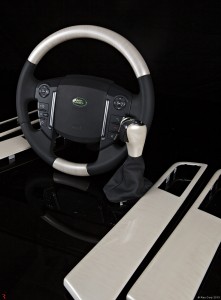 These days, people rarely buy custom made products. This is often true when buying a vehicle. When buying a new car you may have a few paint colors to choose from, a few interior trim options, but beyond that, a car isn't really custom made. Some opt for a custom paint job, or rims. Custom paint and rims will make a vehicle custom, but you won't see or touch these customizations while driving. For that you need a custom interior trim and custom steering wheel like this 2013 Range Rover Sport.
This 2013 Range Rover Sport interior featuring pearlescent tiger maple is far beyond what is offered from the factory. Most people don't know you can have an interior like this. The majority of Range Rover "Enthusiasts" don't even know you can have a custom interior, but you can!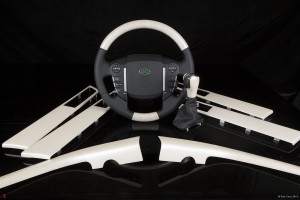 One customer at a dealership in Texas wanted something different from what the manufacturer offered, he wanted darker wood to match the dark interior of the vehicle. So the dealership contacted us and asked for samples. So we sent samples of dark woods but we also sent a white pearlescent tiger maple Ford F-150 steering wheel. The customer loved the white pearlescent tiger maple and decided that's what he wanted.  So that's what we did and now we have another happy customer, and so does one dealership.
This is a short story, but it's an important story. This story isn't just for Range Rover enthusiasts, but it's for anyone with an automobile that could use a custom interior. This story is also for the car salesman interested in complete customer satisfaction. This is true about every post on this site.
Just because this option is shown on a 2013 Range Rover Sport doesn't mean that's the only model it's available on. You can have pearlescent tiger maple for any make or model you want. Everything we make is custom made! If you love your vehicle, and you want something special, we can help. We'll work with you to get whatever look you want. So contact us to discuss your next project.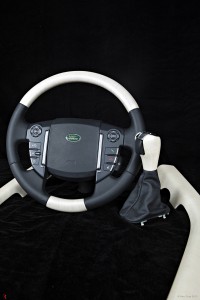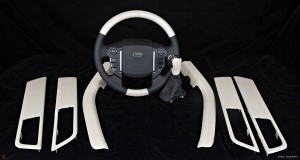 To see a more complete list of the woods available please visit our Palette Page.