by RAU AUGUST 26, 2013
by RAU JANUARY 17, 2013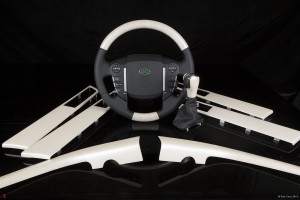 This 2013 Range Rover Sport interior featuring pearlescent tiger maple is far beyond what is offered from the factory. Most people don't know you can have an interior like this. The majority of Range Rover "Enthusiasts" don't even know you can have a custom interior, but you can!
by RAU on DECEMBER 28, 2012
For the past several decades, if you wanted a Porsche sedan, you were out of luck. That changed in 2009 when Porsche introduced the Panamera at the 13th Auto Shanghai International Automobile Show in Shanghai China….
by RAU SEPTEMBER 21, 2012
The Bentley Mulsanne is quickly becoming a very popular model for the famous car marque. Soon one smart driver will be driving with a custom piano black steering wheel. ..
by RAU JUNE 26, 2012
For years now, we've repaired and refinished wood trim from Rolls-Royce Motor Cars, and we learn something new every time…
by RAU SEPTEMBER 23, 2010
After 17 years, much of our clientele has worked with us on previous projects and most of our work is for customers outside the Los Angeles area; whether they are dealers, automotive specialists or private enthusiasts. Once in a while, a "local" engages us in a new challenge. A Mercedes ML 63 AMG owner got [...]
by RAU OCTOBER 13, 2010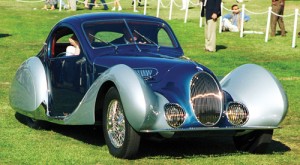 Just two years before this stunning T150C was built and a year after the C27 Voisin was built, Joseph Figoni and Ovidio Falaschi, Italian expatriates, formed a partnership that would lead the design revolution of 1930s into the 1950s...
by RAU NOVEMBER 30, 2010
1934 Voisin C27 Grand Sport Cabriolet with special coachwork by Joseph Figoni. Joseph Figoni arrived in Paris as Giuseppe, a three year old with his family from Piacenza Italy in 1897...
by RAU SEPTEMBER 5, 2010
The darling of Art Deco designers, amboyna is a marvelously luxurious burl from the tree that is commonly known as padauk. It is a rare, exotic hardwood that grows in Southeast Asia and varies in color from yellow to golden brown to red and demands a price as high as $500 / bd ft. It [...]
by RAU APRIL 19, 2012
Pre-airbag steering wheels offer a unique design oppotunity as seen with this 1950 Mercedes Benz 220s Steering wheel…
by RAU JUNE 14, 2012
A trio of bespoke wood and leather steering wheels from 1959-2009 displaying a few design possibilities for airbag, and pre-airbag steering wheels...
by RAU JULY 08, 2012
On Sunday, June 24th 2012, we received an email from a recent customer telling us that his 1988 Bentley Continental, the very 1988 Bentley Continental we restored the wood on, won not only one but TWO awards at the 2012 Rolls-Royce Owners Club National Meet in Louisville, Kentucky…
by RAU SEPTEMBER 10, 2012
It's no secret to fans of our blog that we make many custom steering wheels. This Bentley Azure steering wheel is just one example of the several very unique custom steering wheels we've made recently, but this wheel is more than just another custom William Rau steering wheel…
by RAU OCTOBER 04, 2012
A customer was so happy with his new steering wheel that he wrote an article for the "Modern Lady" Magazine…
by RAU JUNE 25, 2012
The development of interchangeable parts is partly what made the Industrial Revolution so revolutionary. Interchangeable parts are very important in the automotive industry. The latest "Modern Lady" article written by William Rau explains why replacing a wood trim part is rarely the best option…
by RAU APRIL 17, 2012
When we say Picnic Tables, we're not talking about tables down at the park, we're talking about the folding tables in the back of Rolls-Royce automobiles. We are proud to have an article in the current issue of "Modern Lady" covering the topic of picnic table repair… by RAU JULY 8, 2012
by RAU JULY 08, 2012
Based on our extreme before and after photos, some may think William Rau Automotive Woodwork only does makeovers on wood that's badly damaged, but this is not true. We often work on wood that looks almost as good as it did when it was brand new. Some owners grow tired of their wood, some want something new, or on the rare occasion, they have another car and they want the woods to match. The wood from this Silver Shadow (later named the Silver Wraith) with the long wheelbase was in good condition but the owner wanted a personalized interior with more visually interesting wood treatment…