Land Rover introduced an exciting new vehicle in 2011, the Range Rover Evoque. The Evoque is the smallest, lightest, most fuel-efficient model of Range Rover, and is a more stylish, less expensive option for drivers seeking the strength and durability of a Range Rover but still want to drive a beautiful vehicle.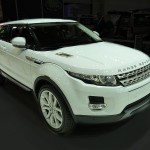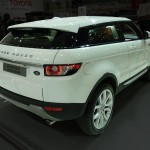 If you own a Range Rover Evoque, you have a unique sense of style, you admire strength but love beauty, but you probably have not even noticed how boring your steering wheel is. Oxford Leather is boring! It's time to do what the factory chose not to do. Bring the excitement of the outside of the Range Rover Evoque inside with a custom steering wheel!
A great way to make a Range Rover Evoque your Range Rover Evoque is with a custom steering wheel. With our enormous selection of woods, leathers, and carbon fibers your steering wheel can be as unique as you are. If you have the Prestige model, then your vehicle may already have wood trim (only two pieces) and we can match your steering wheel to your current wood interior. Your steering wheel can even match your Evoque's exterior finish color. Heated or unheated we can customize any Evoque steering wheel to match anyone's taste and for heated wheels the leather portion will be remain heated to factory specs.
A custom Range Rover Evoque steering wheel doesn't cost as much as many steering wheels for other makes and models because of the way the Evoque's steering wheel is designed. With three spokes, a custom steering wheel can utilize one large piece of wood, or carbon fiber in the design. This extends across the top of the wheel from the 10 O'clock to the 2 O'clock; creating a desirable balance between wood and leather.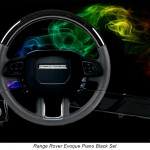 The Range Rover Evoque is an exciting vehicle, but it can be more exciting with a custom William Rau steering wheel hand crafted in the United States. We've been making custom steering wheels for Range Rovers for years and produce only the finest steering wheels available to Range Rover owners. Email  or Call us now to get yourself a custom steering wheel for your Evoque.