A Rolls Royce pulls up alongside another Rolls Royce, and a passenger in one asks "Pardon me, would you happen to have any Grey Poupon?" The other responds while eating lunch atop a picnic table, "But of course", signals to his driver and his car races off. A picnic table can be so much more than just a fancy folding table to hold mustard. Picnic tables have many uses today, they're not just for Rolls-Royce automobiles, and they come in various styles. Over the years, we've become experts in picnic table repair and fabrication, and this selection of picnic tables is a sample of the many picnic tables that we've created over the years.
First, this is an example of a traditional picnic table, but with a twist. Fans and owners of Rolls-Royce Silver Clouds may notice something missing on this picnic table frame, the ashtray (as seen in the photo below). The owner of this Sliver Cloud was a non-smoker and wanted us to remove the ashtray and cover the opening with matching walnut burl.
To the untrained, this may seem like an easy task, but it is no simple feat.
When this picnic table frame was manufactured, the burl around the ashtray was veneered, then the surrounding trim was placed over the veneer. We had to carefully remove the original veneer, as well as half of the sub-straight, so a solid sub-straight and veneer could be placed in the frame. If that seems like a lot of work, don't forget we had to do it twice, because picnic tables come in pairs.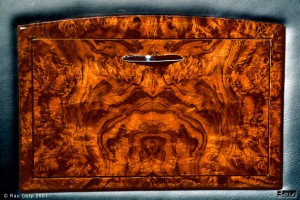 Picnic tables aren't just for Rolls-Royce automobiles, such as this table we designed and built for a GMC Denali. A GMC Denali is not a vehicle people would imagine with picnic tables, but this customer wanted a place for her children to play video games. We veneered the tables with this exciting burl, giving the table a striking book-match. The grain pattern continues from the table to the frame. A beautiful picnic table needs a beautiful handle. The handle on this picnic table is a reproduction James Young handle.
The next photograph shows the table unfolded. Notice how the table has a folding leaf to give more table space in a compact frame. The back of the frame also has burl. A picnic table like this is for the customer looking for a lot of burl, and a lot of table space in a little frame.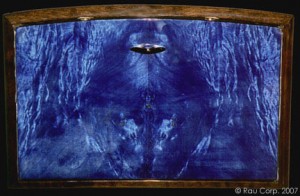 The keen observer will note the differences between this table, and the previous two. The main difference is that this table has an arched top. The previous tables had flat tops. The curved top gives the picnic table a more elegant shape. This picnic table with blue burl, ebonized walnut frame, and black chrome reproduction James Young handle is an example of a less traditional picnic table. Much like the previous two picnic tables, this table has a wood back too, not leather like many factory picnic tables. Of course the steering wheel and other components matched this picnic tables unique style. If blue doesn't suit you, maybe golden-yellow is your color?
This picnic table is another example of the diverse design possibilities available for custom picnic tables. This table, veneered beautifully in Chilean laurel, has an interesting look featuring a gorgeous book-match, giving the table and frame great symmetry. Like the Denali picnic table, this one also has a veneered frame for a continuous flow of burl. This picnic table features a small black reproduction James Young handle. This set of picnic tables are colorful, but not all picnic tables are colorful like this, picnic tables can be white too.
This picnic table isn't made of ivory, it just looks like it. Actually, this attractive example is a light colored burl, which we further treat to achieve this exotic look. Working in harmony with the natural and variegated character of wood can yield exciting and beautiful results. The "wood look" may not be for everyone, there are options without the "wood look".
This high-tech example is an exciting nickel fiber weave. This is a perfect complement to the supple black leather in your Rover, Yukon or other favorite vehicle. Of course, the steering wheel and other components shared this material. Nickel fiber picnic tables would look very out of place if the rest of the interior trim was something besides nickel fiber. Another option for those not seeking the "wood look" is piano black picnic tables.
This set of piano black picnic tables are truly one of a kind.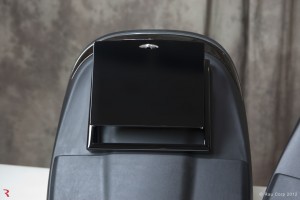 Sometimes we have requests to put a picnic table in a tight space like on the back of an Audi A8 seat. While it shouldn't fit, considering the seatback pocket and existing wood trim takes up a good portion of the seatback, but we succeeded. These tables are topped off with reproduction James Young handles, making these tables as pretty as they are practical.
Picnic tables aren't just for the affluent dining in a Rolls-Royce, but they're for anyone who needs a flat surface in the back of a car. They're for a kid playing a video game, someone using a laptop, or just something beautiful to look. Picnic tables may have a stodgy image, but perhaps with our help, and our modern designs we can change that image and get picnic tables to those who need them.