In late summer 2008 Rau Automotive Woodwork had a special request from a So Cal Bentley dealer – provide a GT Speed custom wood steering wheel for a client's Bentley Flying Spur.
The GT Speed was introduced in 2007 as a high performance Bentley GT. One of many new GT Speed features was the 3-spoke steering wheel as opposed to the traditional 4-spoke.
Since a Speed wheel dressed in matching wood is not a factory option, where do you go to satisfy such a request
As this dealer, and many others know, for unusual one-of-a-kind custom wood requests, the solution can be found at the West Los Angeles studio of William Rau. From the signature steering wheels to full interiors in woods and carbon fiber, enthusiasts, dealers and manufacturers utilize the firm's artistic and technical expertise to render unique designs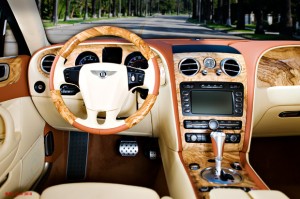 And to make it a little more challenging, the wood was olive ash, not your everyday interior wood. Although the name "olive ash" implies a separate, distinct variety of tree, it really is not. Rather, olive ash refers more specifically to the dark heartwood found in some European ash trees. This customer's steering wheel was made of a lighter olive ash matching the factory interior trim.
To the Vikings, the ash was Yggdrasil, 'the greatest and best of all trees, the sacred ash of Norse mythology with roots anchored in the underworld, watered by streams of wisdom and destiny'. So, for an added dose of wisdom, olive ash may be just your right interior choice.
What makes a 3-spoke wheel different from the traditional 4-spoke is that it has one of the spokes at 6 o'clock, which precludes wood from being placed in that area. The options for wood is a large solo section on the top, or that with additional wood segments to the left and right of the bottom spoke, thus making it a three piece wood wheel. The job became a bit more challenging than other steering wheel makeovers in that the lower two pieces, and the original leather, are tapered so they are bigger at the bottom and taper up to a smaller width. New patterns and templates had to be developed to replicate the shape of the original leather and rubber combination.
This particular wheel became the first wooden Bentley GT Speed steering wheel available in the world! (The second one is in Qatar, and also unusual Amboyna Burl GT Speed wheel.)